50 shades of Tinplate?!
Kidwelly Industrial Museum houses the only surviving tinplate works in Britain, a number of processes were undertaken at the works. A brief description of these is summarised here below:
Bars of wrought iron or steel were brought to the tinplate works and then cut to the required size in the cutting shed. These cut lengths were taken to the Hot Rolling mill to be heated, to a cherry red colour, in the furnaces ready for rolling process, this reduces the bars over a period of time to a wafer thickness.
The ROLLERMAN would seize one of the very hot bars with tongs and inserted it between the rolls, which were continually turning and powered by a steam engine.
The man on the other side of the rolls, the BEHINDER, would catch the bar as it goes through the rolls with his tongs and pass it over the top, back to the rollerman, who meantime would have inserted a second bar into the rolls.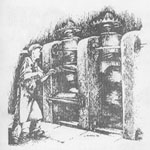 The bar, after repeated rolling and furnace heating would now have become an eight-fold pack, this would be handed over to the DOUBLER, whose job it was to fold over the plates and squeeze the folds in the squeezer. The pack was trimmed and cut into the black-plates in the shears.
The SHEARER trimmed and cut the pack to the size of the customer's order, using the shears with First and second HELPERS completed the team.
The eight blackplates in the pack were separated by OPENERS.